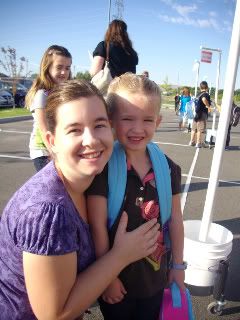 Well Hannah has been in school for 2 1/2 weeks now, and she is doing totally great! Her teacher is really great, and I know that we are very lucky to have her teaching Hannah this year. Hannah was really excited that her desk was the kind where the top raised up. There are 12 kids in her class, and she made friends with the girl she sits next to on the first day of class. There is another Hannah in her class, who happens to live 2 blocks away from us, in the same exact floor plan as us, AND they drive a gray honda odyssey WITH a disneyland license plate frame, same as us....I talk to Hannah's mom the other day, and we plan to get together soon to see what other eerie similarities we have!
It has been a good thing for me to have to get going in the morning, although sometimes it is hard to try to wrangle 4 kids and get them all ready and out the door by 8:15. It is a little easier on the days sqeaker doesn't have visits with mom at 9:00, cause then I can leave him in his jammies if I run out of time.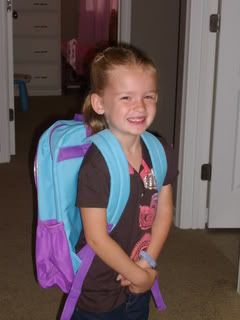 Thankfully Hannah hasn't gotten sick at school, but she did wake up one morning weak from not eating dinner, and could barely move, and threw up once after eating a square of toast and a drink of juice. This is her thing, I don't know what to call it, low blood sugar?? It took her an hour, was totally back to normal, and I carted her off to school. Hopefully that doesn't happen often. I will have to pay more attention to how much she eats at night. I did give her some yogurt before bed tonight to give her some protein, keep her good until morning.
We have had to deal with some attitude issues, Hannah thinking she is all that and a bag of chips. I expected her to talk non stop about her day and be so excited to see me....not really the case. Hopefully that will get better as we get into a routine!