Now that we have our first foster child, I thought it was time to start recording how we got to this point, and in the future look back at all that God has done for us and through us.
I guess this story starts in July 2008, when a lovely friend suggested I go to China on a mission trip. Ha! Such a funny girl.

Well God used that conversation to spark a series of events, and by September, I was on my way to Spokane to learn more about this trip that would take me away from my family for 2 weeks, and into a communist country where you can go to jail for talking about Jesus. God was totally in the decision, and I know this because I was under attack in my marriage, for the first time in 10 years. Satan did not want me to be a part of this, and as time went on, I started to see why.
On November 1st, 2008 I flew to China and spent 2 weeks at an orphanage where God totally opened my eyes and changed my heart toward those who have no choice in their circumstances.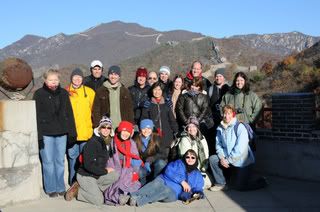 When I came home, it was very difficult to convey all that I felt, especially to Kevin. My heart had been broken, and was hard to get back into my life as a wife and mother, while still dealing with all that I saw and experienced in China. I think I cried for a week straight, with no provocation at all. My poor husband probably thought I was losing it! Life happens, and I got back into the groove of things, sort of forgetting about what God might want me to do with all that He had shown me. It wasn't until sometime in November that I felt that burden come back.
A friend sent out a mass email about 2 children, a 3 year old and a 5 year old, who really needed a good home, as their Grandma was unable to care for them anymore. She was also asking for help to collect toys for these kids for Christmas, to bless them despite their circumstances. I read the email, and broke down crying. Not just a teary cry, but a soul, body wrenching cry. I called Kevin, sobbing, could hardly spit out what was going on. I knew there was nothing we could do at the moment for these kids, but it made me sick to my stomach that these kids were going through this. They were the same age as Matthew and Hannah.
We talked then about our options. Should we adopt? Should we have more children? Should we do foster care? Nothing was decided, only that we would pray about it.
Fast forward to March. We had decided to pray more about foster care. We didn't feel like any of the other options fit for our family. At this point the orphan ministry at church started to plan a conference for November, and I went to a planning meeting. At the end of the meeting, the conversation turned to a couple who had just gotten their foster license, and they were looking into getting the same 3 and 5 year old from last winter. Instantly that heart wrenching burden hit me, and I couldn't stop crying. I went home and told Kevin about it, and he said to get the ball rolling and fill out an application to get our license.
Has God ever told you to do something, and you agree to do it, but things just happen and you never get around to it. That's pretty much what happened, and I never felt settled. Finally in April, we went to the Orientation class, got our paperwork, and signed up for our PRIDE pre-service training.
Let me just pause here and express my thanks to all my friends who supported us in this. If you were to ask me last year what I thought I would be doing now, this most definately would not be it. It never even occured to me that this is something God would call our family to do. I am a very selfish person, and it was hard for me to adjust to having kids. I had to really learn how to die to myself, and I am still learning :)!
We turned our paperwork into DSHS on June 1st and completed our PRIDE classes on June 20th, and got our certification for CPR and first aid June 23rd. Somewhere in the middle did our fingerprinting. On June 30th we had Trish our licensor do the walk through and interview. On July 13th, we recieved our foster care license. This the waiting game began.
As a side note, the reason we turned in our paperwork on June 1st was because someone told us to get the process going, because there might be twins available soon. This really excited us, so we sped through as much as we could, but still had to wait on our classes. Halfway through or classes, we became aware that a couple in our church had the twins placed with them. I will be honest. It broke my heart. For some reason, I had my heart set on those twins, and in my heart they were already mine. It took me about a week to get over myself, and realize that those twins were not mine, they were God's children, and he knew best where to place them. Kevin and I laugh now at the thought of us having those sweet girls. We were so not equipped to care for them, and the parents they have now are totally awesome.
We are doing a women's bible study right now through the book of Joshua, and it talks about Moses dying and Joshua being appointed the next leader. A question was posed about how death brings about new life, and how that applies to your own life. Well, the dream of having those twins died, but it brought forth a new plan. God's plan. And His plan is always better than mine. One of these days I will learn that. Maybe :)!
So now we start the waiting game. I used the situation with the twins to describe our trip so far. We decided to get on this ship, God being the Captain, sailing us where he wanted us to go. I was totally content to let Him be in charge, until he passed by that island that I thought we were supposed to stop at. It was perfect from what I could see, and I didn't understand why he kept sailing. But like I said, I decided I would trust that He had something better. This island that He had in mind for us better look a lot better than the one we just passed!
All through August, we just sail. No calls, nothing. Ok, did we hear right? Are we supposed to do this?? They really do need foster parents right?? Well at the end of August, we are called to watch 2 girls for a day and half. God totally used that to show us we can only handle 4 children at a time, not 5! Ok, the twin thing comes back to me....thank you Lord for not stopping at that island back there!! Right after the girls went home, we get a call to take in a 3 year old and 6 year old. Again Lord, that you for showing us that we can only handle one at a time!
September arrives, and I'm not too concerned about not having a placement. God's timing is always right, so I'll just let him keep sailing this ship, and keep my eye out.
We were planning on homeschooling Hannah this year, so when it was the week before school started, I was confused when I started having issues. I felt like I was losing it, little things setting me off. After talking with some great friends, it came to my attention that maybe it wasn't God's plan to keep Hannah at home, at least this year. So we enrolled Hannah in Calvary Christian School 5 days before school started. It was another one of those burdens I felt, and as soon as I obeyed, it was lifted!! Praise God.
Three days later we get a call that there is a newborn who needs a home for 2 months. Ok Lord, is this it? Are we wanting to foster, give this child back?? Can we do that? Trust you?? Ok, you're driving. Here we go.
So we welcomed this cute little sqeaker into our home on Saturday September 5th. He was 2 days old and totally perfect.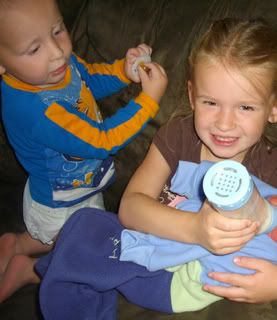 I have to say, that God has given me a peace that surpasses understanding. Whatever I am able to do, it is because of Him. So many things I lack, he is able to make up the difference! Yes I am tired, and it is hard work, but this is what He called me to do. I try not to look too far forward, keeping my eyes on today, and what I can do TODAY. We still don't know if we will keep doing foster care , or if we will adopt eventually, but we are doing what God wants us to do in this moment, and we are content in that!